About Kalo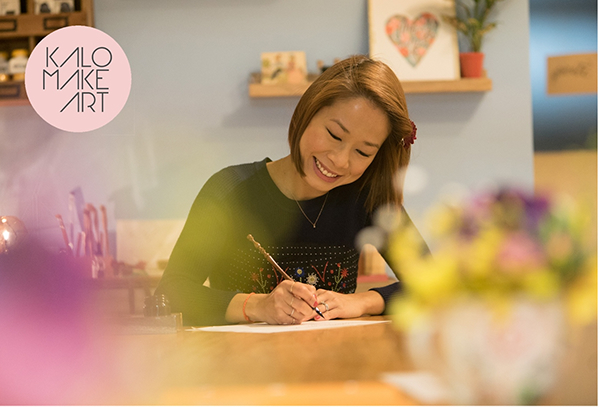 Kalo is a classically trained calligrapher based in Hong Kong under the brand "Kalo Make Art", specialising in western dip pen calligraphy.
Born in Hong Kong, Kalo studied art in London where she lived for the past decade. Seeing a lack of creative hubs in Hong Kong, Kalo opened Hong Kong's first calligraphy studio in Central in June 2015, with the aim to create a relaxing environment for people to learn and enjoy the art of calligraphy. The studio hosts a range of creative events, such as calligraphy workshops, jamming practice evenings and monthly pen meets. Over the past few years, Kalo has taught over 3,000 students, her calligraphy studio now also sells a range of calligraphy supplies to cater the increase demand in calligraphy writing in Hong Kong and Asia.

Besides calligraphy education, Kalo also provides calligraphy services for corporates - from event stationery calligraphy and designs, on-site demos to team building workshops to help promote business' branding and events.

| KALO MAKE ART |

18-20 Wyndham Street Ivy House Room 201, Central, Hong Kong (by appointment only)
Website: www.kalomakeart.com
Email: info@kalomakeart.com
Instagram: @kalomakeart | @shop.kalomakeart
Facebook: Kalo Make Art | shop.kalomakeart